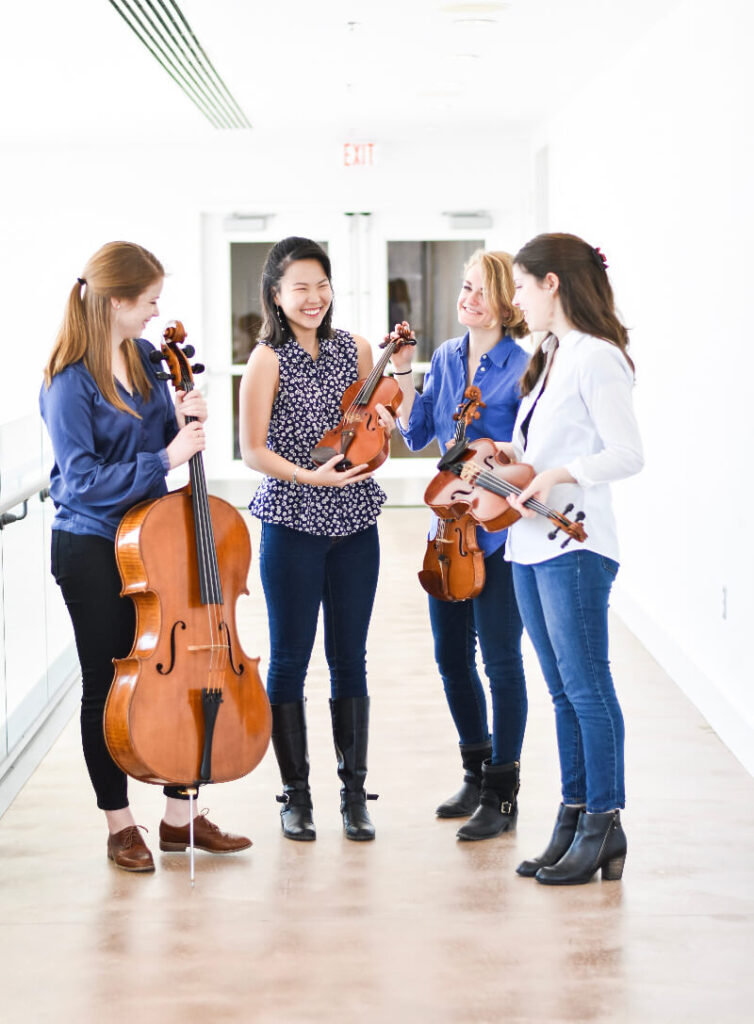 Kalkaska String Quartet is one of the most sought after Michigan based ensembles for weddings, corporate events, and parties. The group performs both classical music, as well as original arrangements of popular contemporary songs, bringing a level of artistry and professionalism your guests are sure to notice!
"Very professional and flexible. The icing on our cake and you wont be disappointed! "
Violinist Rose Brown is a graduate of the Jacobs School of Music at Indiana University and a current graduate student in violin performance with Prof. Danielle Belen at the University of Michigan. She has devoted herself to the study of the violin all her life, beginning as a Suzuki student at age three. As a pre-college student of renowned pedagogue Mimi Zweig, Rose performed in the eight-member Indiana University Virtuosi, including a three-week tour of Argentina and Brazil as well as performing at Carnegie Hall with violinist Gilles Apap. During college, she toured South Korea in a chamber orchestra and gathered extensive orchestral and chamber music experience.
Rose has been coached and played in masterclasses for great musicians including Joshua Bell, Midori, and Clara-Jumi Kang, has performed as a chamber musician with Augustin Hadelich, Mark Kaplan, and other great leaders, and has been a member of several regional professional orchestras. She is also an enthusiastic teacher of students from beginner to college level. Rose has appreciated the many opportunities she has had to perform around the country and internationally, but most of all she enjoys the intimacy and camaraderie that come from rehearsing and performing with a small ensemble.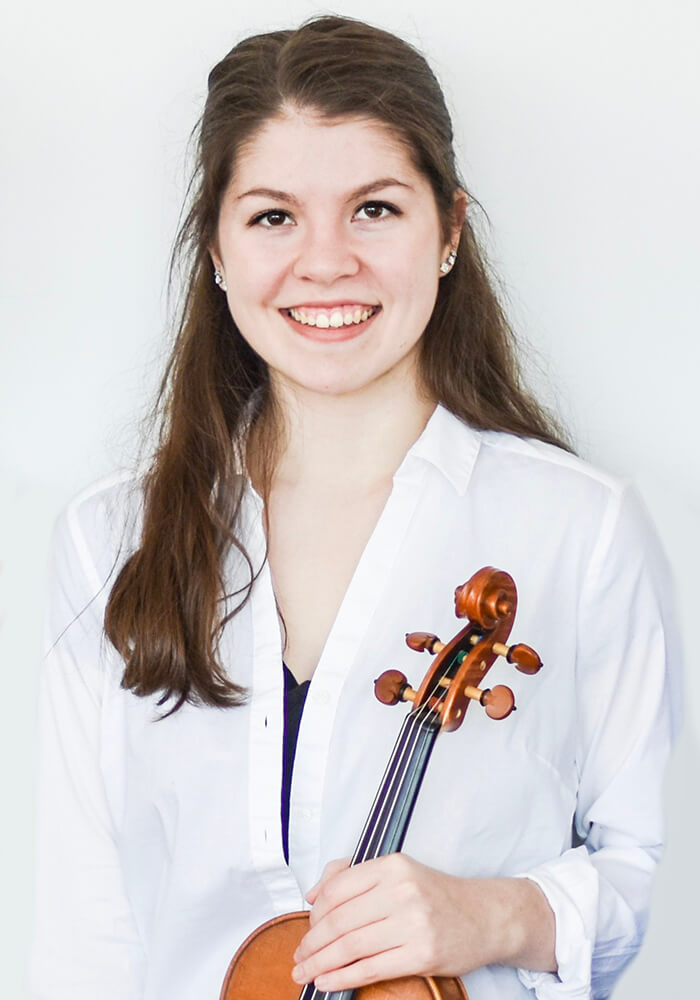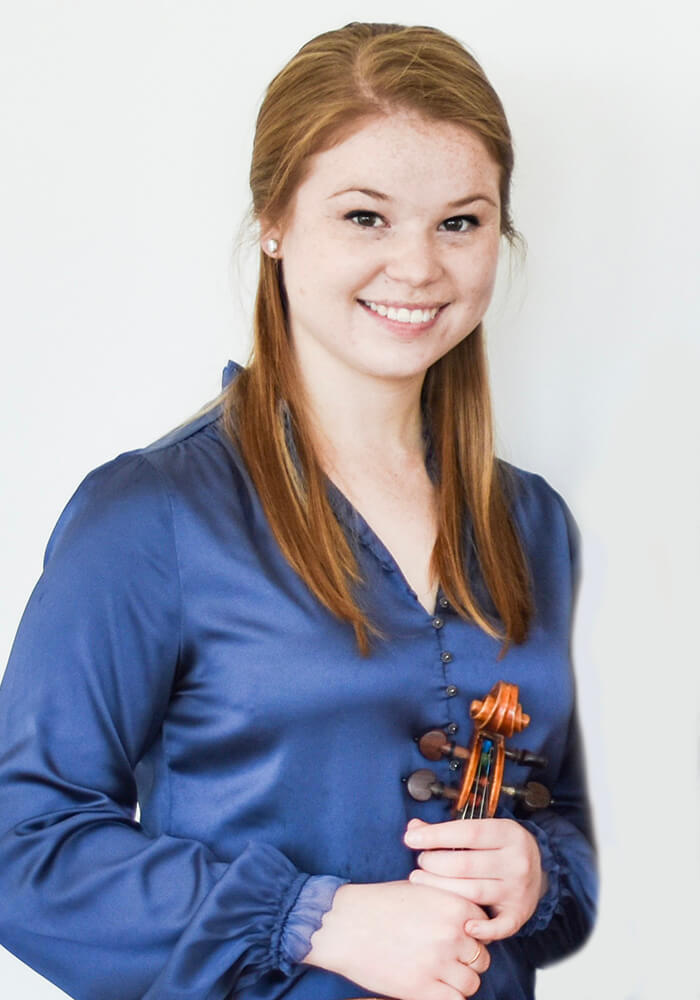 A recent graduate of the Oberlin Conservatory of Music, violinist Dana Johnson is currently pursuing her master's degree at the University of Michigan under the tutelage of Danielle Belen. As an active performer of contemporary music, Johnson has premiered many student compositions in addition to performing as a principal in Oberlin's Contemporary Music Ensemble and as a member of the student-led contemporary music collective, Semble N. Recent engagements include a performance with her string trio, Trio Ligatura, at the Kennedy Center, a solo feature with the Oberlin Contemporary Music Ensemble, and a performance featuring Jennifer Koh with ICE (International Contemporary Ensemble) at the Ojai Music Festival.
Her musical endeavors have taken her around the world, participating in such festivals as soundSCAPE (Italy), the Litomysl Violin Masterclass (Czech Republic), Le Domaine Forget (Canada), and the Bowdoin International Music Festival. Inspired through the teaching of a variety of renowned artists, Johnson has worked closely with or performed in master classes for Christian Tetzlaff, Pamela Frank, Pinchas Zukerman, Frank Huang, The Punch Brothers, and the Calder and Cavani Quartets, among others.
Violist Zola ("Zoie") Hightower is a student of Danielle Belen and Caroline Coade at the University of Michigan School of Music, Theater and Dance. Zoie began her studies at the age of three, joined the Indiana University Jacobs School of Music String Academy at age four as a student of Dr. Brenda Brenner and later, Mimi Zweig. She was a member of the Indiana University Virtuosi for six years. She has been a featured soloist and ensemble performer on stages and in concert halls, in America, Europe, Canada and South America and in 2011 was invited to perform with the Scandinavian folk string ensemble, Frigg. Zoie was selected a prize winner in 2011, an honored artist in the 2012 and a 2013 finalist in the Young Artist Concerto Competition with the New World Youth Symphony Orchestra. In 2012, she was selected as the second prize winner of the IU Jacobs School of Music Summer String Academy Viola Concerto Competition.
In 2013, Zoie won first prize in the Indianapolis Symphony Orchestra's Side-by-Side concerto competition, which culminated in the opportunity to perform as solo artist with the Indianapolis Symphony Orchestra. She was delighted to perform with the Violin Virtuosi at Carnegie Hall in New York City in 2013 where she performed on both violin and viola. Zoie was selected as the Indianapolis Symphony Orchestra's Side-by-Side Concertmaster in 2014. In 2015, she was named both the first prize winner of the Youth Concerto Competition with the Bloomington Symphony Orchestra, and of the Young Artists Competition with the New World Youth Symphony Orchestra and soloed with both orchestras. In addition, she was the Third Prize Recipient of the Mauer Young Artists Concerto Competition in 2015.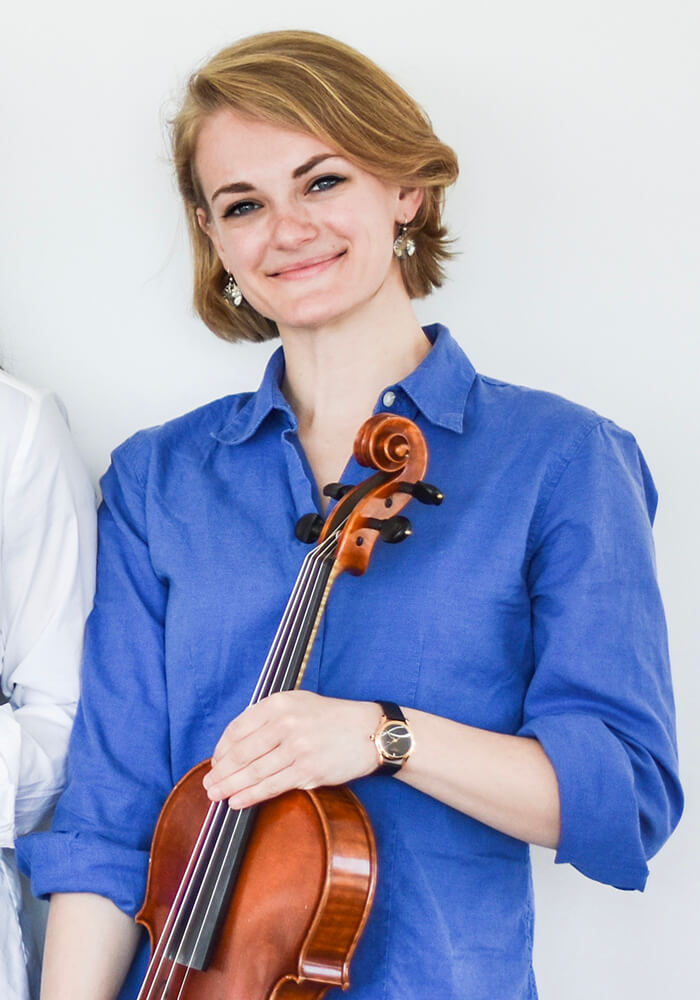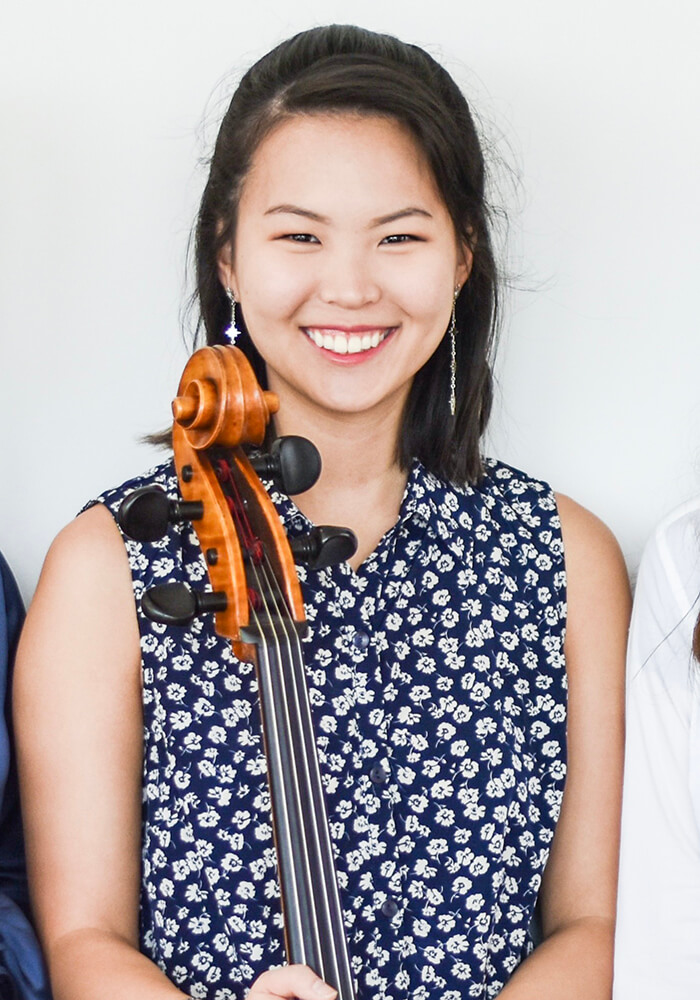 Cellist Nicole Chung has appeared as a soloist with the Vancouver Youth Symphony, Vancouver Philharmonic Orchestra, and the Lord Byng Symphony Orchestra. She performed in the Kiwanis Gala Showcase concerts in 2010, 2012 and 2014, and received the Tom Lee scholarship for her performance.
Nicole has won numerous prizes such as first place in the Friends of Chamber Music competition and Gold Medals in Performing Arts BC for both solo and quartet divisions. Previous summers, she participated in international festivals such as Domaine Forget, Orford Arts Centre, Sommerakademie International Bad Leonfelden, Bowdoin International Music Festival and Aspen Music Festival.
Nicole began playing cello at the age of 7 and is currently pursuing a Bachelor degree with Richard Aaron at University of Michigan.